Oud Bruin 2016
by Brad
Brewery: New Glarus
Pancakes: Yes
Type: Sour
Syrup: Yes
---
I always get really excited about verticals on this blog, and we've already had a few (just search "vertical" in the sidebar), but I'm always happy to introduce another. New Glarus's annual sour (though it's no Enigma) has made one prior appearance on this blog and I was happy to be able to bring it back again this year. Let's see how it fares!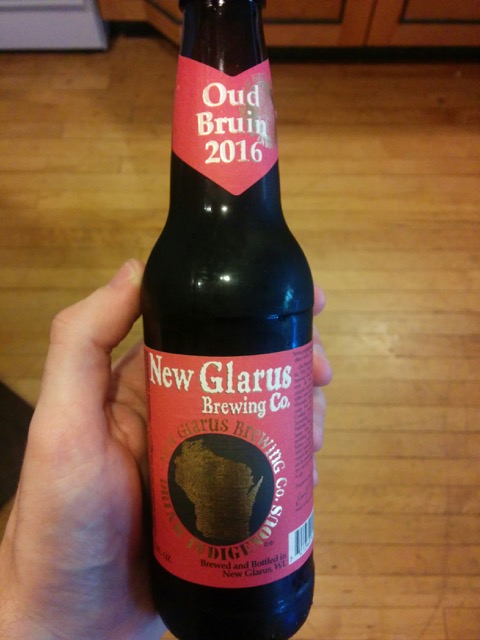 Oud Bruin is one of New Glarus Brewing Company's "thumbprint" series - brews that aren't exactly seasonal, aren't exact rotational, but are all pretty incredible. Oud Bruin is more of a traditional Flanders Red style that features a delightfully balanced tart sour with cherry notes. The fruit flavors don't overwhelm a strong red/brown ale style body. Really a great beer overall.
Prep/Cooking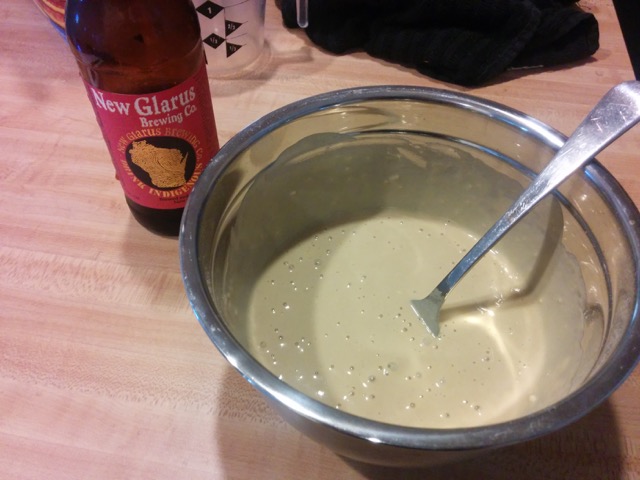 The batter was surprisingly thick given how easily-drinkable the beer is, and it has a pleasant light brown color. At first, the batter tasted nothing like the beer, but had an oddly biscuity flavor. After a few tastes, I was able to adapt, and it developed a lightly fruity finish. Not sour at all, but overall really nice.
Results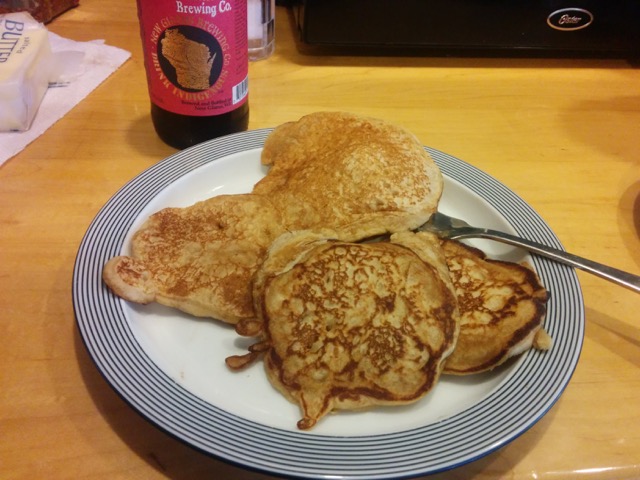 My first impression of these pancakes was a wonderful cherry aroma. It was subtle (like all of the fruit flavors have been throughout), but I immediately picked up on it. Flavor-wise, again, at first there wasn't a very strong Oud Bruin-esque flavor, but after a few bites my taste buds adapted and the pancakes developed a wonderful cherry finish to go with a nice malty backbone. Still not sour, but they left a crisp, fresh feeling.
The Decision
Pancakes: Yes. I'm remiss to say make pancakes out of this beer because how good the beer is, but that's not fair to hold it against the pancakes. They were subtle throughout but a really pleasant experience.
Syrup: Yes. Something about the sweetness of the syrup finally brought the fruit flavors to the forefront. At the same time, it didn't overpower the pancake flavor. I had exactly one bite that had slight hint of funk to it, but that may've just been my brain substituting associations...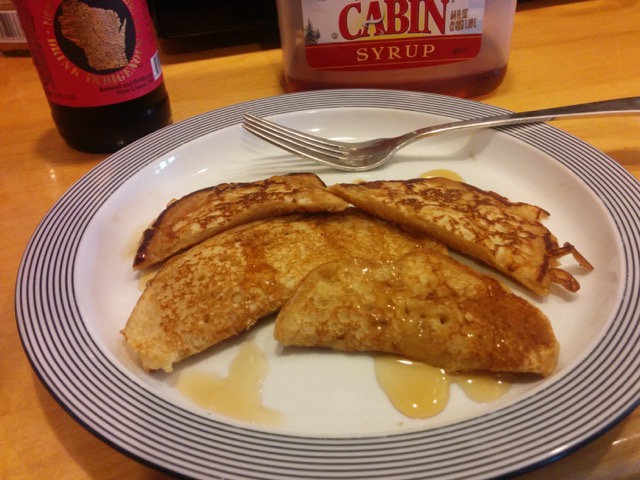 ---
If you liked this post, share the love!