Southern Tier Creme Brulee
by Brad
Southern Tier has a place near and dear to my heart, being a fellow product of Western New York. This entry also has a special place for me, as it was the hectic morning before the trip to Chicago to see the Radicals stomp the Windy City Wildfire for the Midwest Conference Championship. That being said, this post is a few weeks late and we were largely in a rush that morning, so details might be a bit scarce (which is kind of sad given how interesting this beer is/good these pancakes were).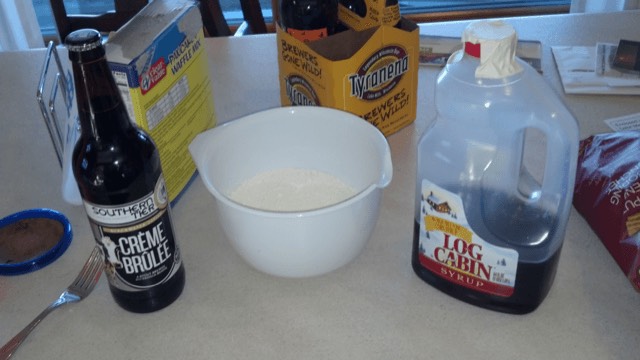 It's also the first entry from Porkchop's house, hence the tape over the syrup :P
Prep/Cooking:
Southern Tier's Creme Brulee Imperial Milk Stout is without a doubt one of the most interesting beers you'll probably ever have. I'm never really a fan of milk stouts, but you just can't compare this to anything. It's dark, it's malty, it's sweet, and it's powerful. The beer pours a silky black with a light brown head, and from the second you crack open the bottle you can smell that sweet vanilla coming through.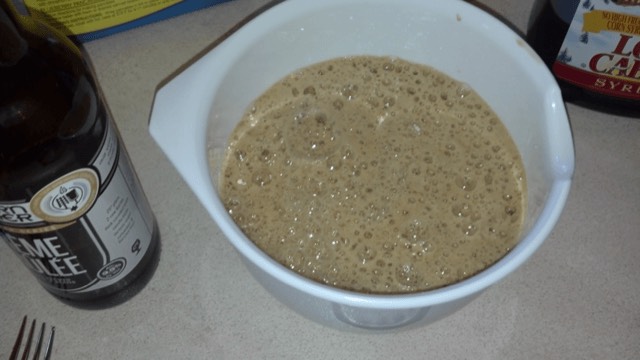 Mmmm. Heady.
The batter itself came out to be one of the oddest batters I've seen. Obviously the color came through in the batter, as did the sweetness. I think that's what made it so weird/unique. Malty goodness? Check. Dark brown batter? Check. Vanilla bean sweetness? Wait, what? I also think the sheer volume set me off a little bit, as I'm used to making enough pancakes for a tasting for one, not to feed 3 for breakfast.
Results:
The pancakes came out just as dark and sweet as one would expect. The first few tasted a little burnt (not surprisingly), but the flavor grew on me over time. We were really short on time, so I didn't quite get the chance to full explore the flavors, but overall the reaction was positive from the other two pancake-eaters. Sweet, but not overpoweringly so. Pretty great overall.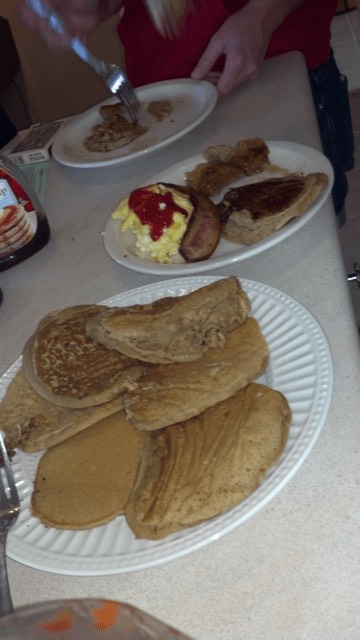 Mmmmm bacon and eggs
The Ternary Scale:
Pancakes: 1 - I wasn't as wowed by these pancakes as I was expecting to be. The reason I say make them is because that bomber of creme brulee is kind of a lot, and you probably won't want it anymore by the time you get about 3/4 the way through it. Pancakes are a great alternative to choking down sweet beer.
Syrup: 0 - I didn't notice anything special about adding syrup to these. They're sweet enough as it is, and it's not like the syrup added anything or brought anything out in the taste.
---
If you liked this post, share the love!