Dirty Hipsters
by Brad
I came across Evil Twin's Hipster Pale Ale as a result of one of the Great Taste of the Midwest planning meetings I attended. It came out of MHTG's SBR (Strategic Beer Reserve) that I've mentioned a few times on this blog. Shout out to my MHTG homies.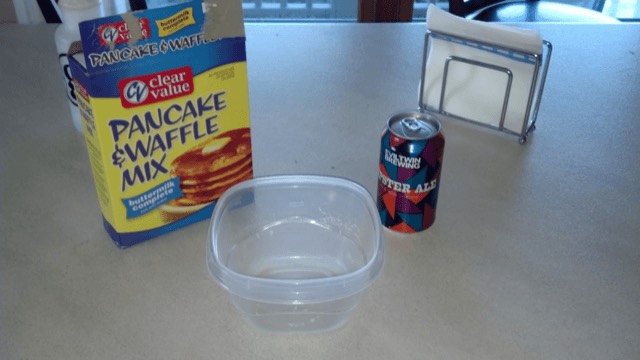 Look at that pattern. And on a can! What a hipster.
Hipster is a sesssionable Pale Ale with a hoppy, almost fruity head. I'm not a fan of lighter/hoppier beers, but it was fairly drinkable (which, coming from me, is quite the compliment). Today features another "double" batch (it's actually the normal amount - I usually make half) due to my buddy Andrew taking part as well. So how do they stack up? (Pun absolutely intended)
Prep/Cooking:
The batter and pancakes themselves were nothing eventful from the prep standpoint. The batter accentuated the floral characteristics of the beer (as it tends to do with pale ales), and gained nothing in terms of color due to hipster's golden pale-ness.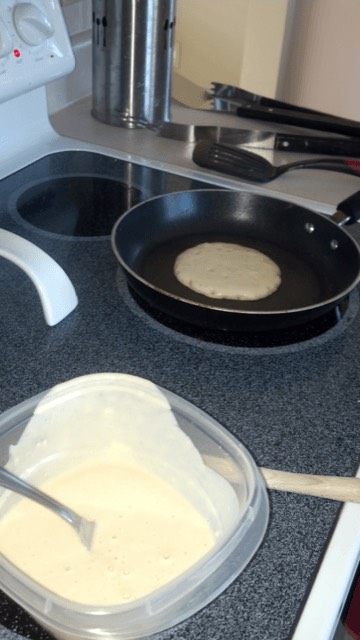 Check out that action shot! Perspective!
Results:
I'm going to keep this one short and sweet for two reasons: 1) I admittedly made these pancakes a few weeks ago, so my memory of them isn't as good as it may've been, and 2) there really isn't much to say. After baking, pretty much all of the flavor disappeared. If you tried really hard, you might be able to pick up on some of the hop characteristics, but I mean really try.
The Ternary Scale:
Pancakes - 0. No way. Not that I was a huge fan of Hipster by itself, but why waste the beer on these pancakes?
Syrup - 1. I mean, it's syrup. It makes (almost) all pancakes better, regardless of initial quality. In this case, though, it actually helped to bring some of the flavor to life. Not really good enough to be substantial, but better.
---
If you liked this post, share the love!