Craft Beer Week 2013 with Tyranena
by Brad
As Madison Craft Beer Week marches on towards its close this weekend, the amount and variety of beer I've had has grown to an incredible level. This is one of the many times I wish I had an easy way to keep track of what I've drank (a la Trinker or Untappd), but I feel a little more legit that I don't. I also wish I had some way to easily keep track of plans/ideas I want to do in the near future (e.g. "Get growlers from Hydro Street"), but *coughcough*moreonthattocomesoon*cough*.
Anywho, in my own little celebration, I've been saving some high-quality beers to make pancakes out of this week, and I've been doing more than the usual one-post-per-week. Today's entry is a very special specialty brew out of Tyranena Brewing Company. Tyranena has their "Brewers Gone Wild" series, which are one-off experimental brews from their creative and talented brewers. I was at a beer tasting a few months ago and they were sampling the current batch, which was Benji's Imperial Smoked Porter with Chipotle.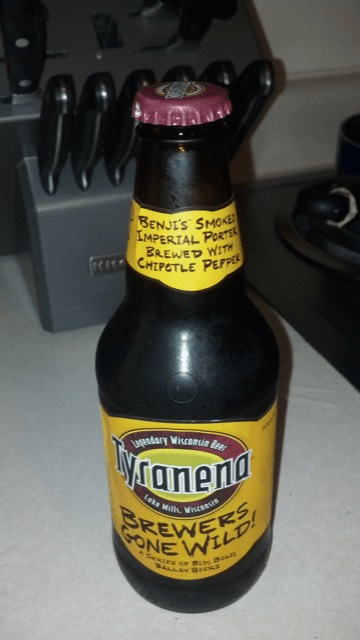 Oh baby. Get excited.
These come in 4-packs, so you have to use them wisely. I had them for a few months before I cracked any open. The first one I had I don't recall the occasion, but the beer was much less enjoyable/flavorful than I remembered it from the tasting. I think it was too cold. The 2nd I took to Rochester to give to my beer buddy, Greg. This is the 3rd out of the pack, and I'm happy to report it was much more enjoyable this time around. A nice, rich, full-bodied Imperial Porter with just the lightest tinge of pepper spice on the finish. I learned taking larger mouthfuls gives you more of the pepper taste.
But enough about the beer, on to the pancakes!
Prep/Cooking: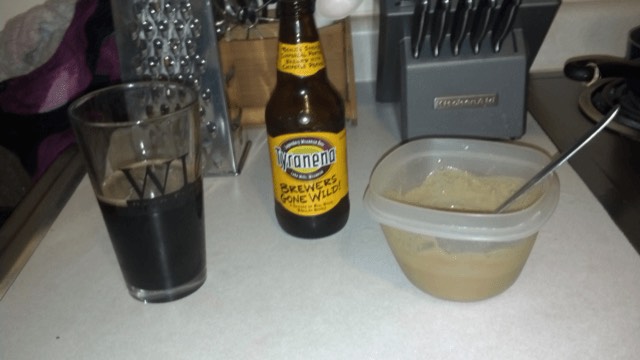 Aww yeah WI Beer Expo glass. So sad that died :(
Benji's porter, in batter form, was nothing impressive. It kept a lot of the big-bodied flavor that were characteristic of the beer, but it lost some of the subtler tones, and the chipotle pepper all but disappeared. I didn't quite test out the "more of a mouthful" hypothesis about the flavor, though, as that would probably be a bit overwhelming. The pancakes came out pretty average - not too fluffy, not too flat, nothing really weird about them. They had a nice brown color to them thanks to the imperial porter.
Results: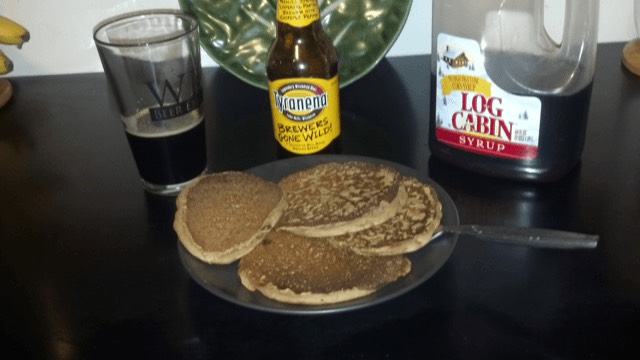 Notice the amount of beer left in the glass goes down over time...
I wasn't sure what to expect with this beer. I've done a few other smoked pancakes in the past with mixed results - sometimes they come out burnt-y, sometimes they're delicious. Add the chipotle in here and I was a little apprehensive before digging into them. But, I forged on. For Science!
My apprehension was completely misplaced with this one, though. The malty deliciousness of the porter came through magnificently in these pancakes, giving them a rich, wholesome flavor. I'm not sure if it's a mixture of the smoke, the chipotle, or the malts, but they were almost savory. None of the three flavor tones really overpowered the other, but somehow a little batter, oil, and heat brought out that combination moreso than in liquid form.
The Ternary Scale: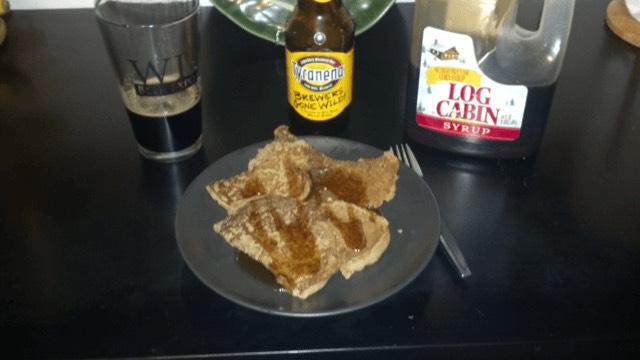 Still disappointed by the waste of good pancake with the syrup
Pancakes: 2 - It's kind of hard for me to say "Go out and get these and make pancakes" given it's a once-in-a-lifetime sort of release (unless it's wildly popular, then maybe they'll make it again), but if you can get your hands on some, do it up. I know the Mason Lounge in Madison still has bottles...
Syrup: 0 - No way. The syrup actually made these worse. The savoriness of the smoke, chipotle, and malt was washed out by the sweet syrupy goodness (or, in this case, badness). What a waste.
---
If you liked this post, share the love!