Craft Beer Week 2013 with MobCraft Beer
by Brad
We're in the midst of Madison Craft Beer Week and it's been a blast so far. Every night features a ton of beer-related events, from tastings to rare beers to beer dinners and social hours. I can proudly say I've been to at least one event every day so far, and it's been great.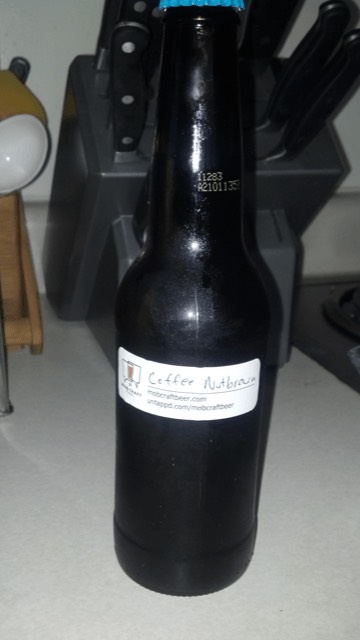 Mmmmmmm
To honor Craft Beer Week, I'll be featuring my favorite of the current MobCraft lineup, their Coffee Nut Brown. I happened upon this little gem when I went over to meet with the founders and talk about UX-y stuff. Henry was kind enough to let me sample all of the brews they currently had in stock, poured a pint for us to enjoy during the meeting, and even sent me home with one, so, of course, pancakes they shall become.
When I first tasted the Coffee Nut Brown it was one of the most coffee-y beers I'd had. It's still way up on the list, and it's balanced nicely with caramel tones and rich flavor. The color is a deep brown color, and the aroma is very strongly coffee noted. I'm really impressed overall with the MobCraft lineup and the quality of their beer, especially given a)they're pretty new to brewing, and b)their recipes and ideas are crowd-sourced.
Prep/Cooking:
I unfortunately totally failed at taking pictures of batter (I must've been distracted - blame Lizzi), but there was nothing odd about prep and cooking of these pancakes. The batter covered up some of the coffee flavor with its batter-y-ness, but it also managed to fend off the yeasty flavor that usually comes with batter when you add beer to it. The pancakes came out a wonderful dark brown color, and were surprisingly consistent in size and consistency. A little flatter than usual, but that's probably my fault.
Results:
To be honest, these pancakes came out much worse than I was expecting. I ranted and raved about the flavor in beer form, and I was really looking forward to a wonderful blend of coffee and pancake. At first taste, the pancakes had lost almost all of their coffee flavor. They managed to keep some of the other, more subtler flavors the beer touts, but the main aspect (the coffee) wasn't there. As I ate more of them, though, I started to get a stronger sense of coffee out of them, and they generally got better (Lizzi concurs).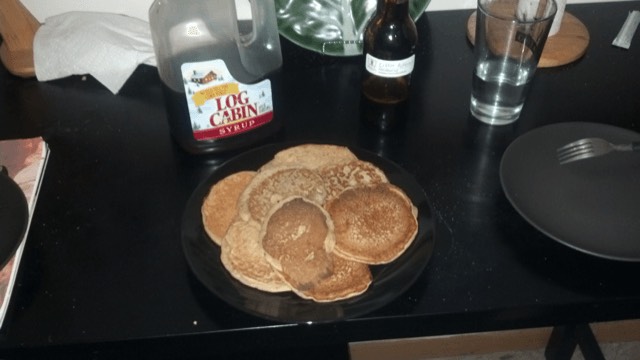 Notice the larger-than-typical amount of pancakes. Hooray friends!
Syrup actually helped these out a lot. Something about the maple tones and the sweetness of the syrup brought out the coffee a lot more than the pancakes had on their own. While they grew on me over time, they also greatly benefitted from syrup.
The Ternary Scale:
Pancakes: 0 - This is one of my least favorite 0s I've given. Let me explain: I'm not saying they don't make good pancakes. What I'm saying is the likelihood of you having enough of this to warrant making pancakes out of it is extremely low. MobCraft's beer tends to be one-of-a-kind, single-batch stuff, so if you get your hands on it, enjoy it in beer form, in all of its original glory.
Syrup: 1 - If you do make them, though, syrup will almost definitely help.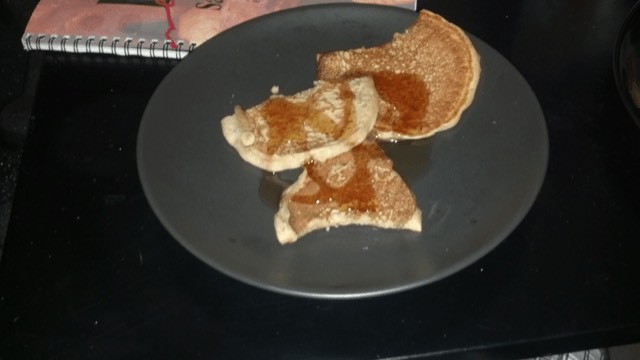 Syrup helps.
A note about MobCraft:
MobCraft Beer is a startup here in Madison that crowd-sources and crowd-funds their brewery. They're always taking submissions for beer ideas and recipes, and every month their members ("the Mob") vote on 4 potential beers to be brewed the following month. By voting, you're pledging your support to buy the beer when it comes out. They've been working on growing their reserves and their reputation, and they're working on their first commercial batch now. It should be on sale in June. Go check them out!
---
If you liked this post, share the love!