Christmas in April
by Brad
Today's beer confuses me, because I don't even remember where it came from. All I know is it's been in my fridge since before Christmas, given it's a Christmas Ale, and I was putting it off because I've had it before and I didn't like it. Anything called a "Fresh Hop Ale" is probably bad news for me, and Sierra Nevada's Fresh Hop Ale is no different.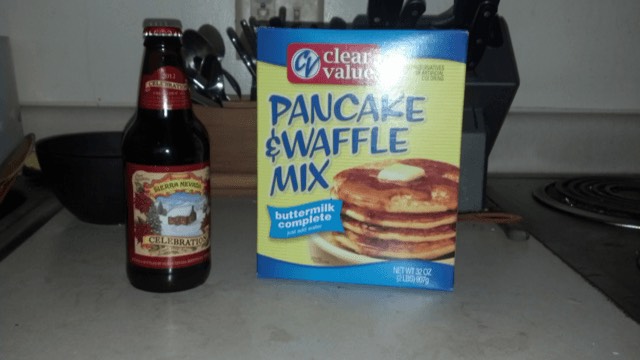 Yes, that's a log cabin covered in snow. From Sierra Nevada. In California
It's an interesting take on Christmas Ales, at least, as they tend to be darker and spicier than Celebration. Whether or not I agree with it is another story altogether. Hops and cold, snowy Christmas doesn't really go together, but then again, this is Sierra Nevada. Tsk tsk.
Prep/Cooking:
Celebration pours a rich caramel color, which is somewhat uncommon for hoppy beers. Pale Ales can get down into this color range, but the hoopier they come, the lighter they tend to be, and they usually lack the deeper, richer caramel tones. The batter, however, didn't seem to hold that color quite as well, and came out looking like pretty normal batter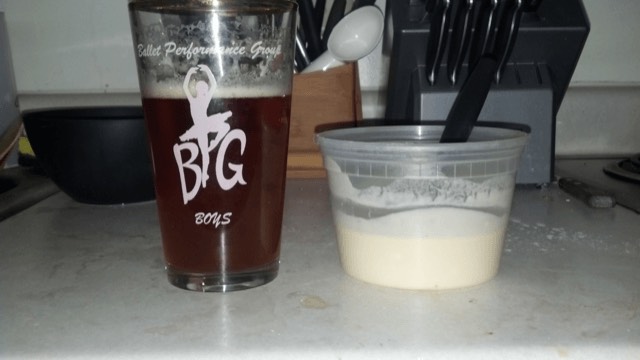 Reppin' the BPGBoy Glass for color comparison
The batter itself was just as hoppy and disgustingas the beer. Maybe even moreso, as the yeastyness of the beer was emphasized by the batter, making this disgusting combination of bitter hoppy yeastness. 0/10. Do not recommend.
Results: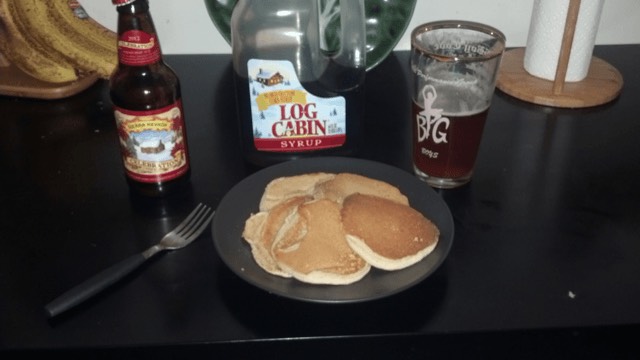 Look at that beautiful setup!
Given how low my expectation for these pancakes were, I was actually somewhat surprised. They were much more palatable in flapjack form than in beer form. Something about the cooking process really smoothed out the hops as well as the yeasty weirdness that it had in batter form. After adding syrup, I actually almost enjoyed them, as the sweetness drove out any lingering bitterness from Celebration. Did I just say I enjoyed a hoppy beer?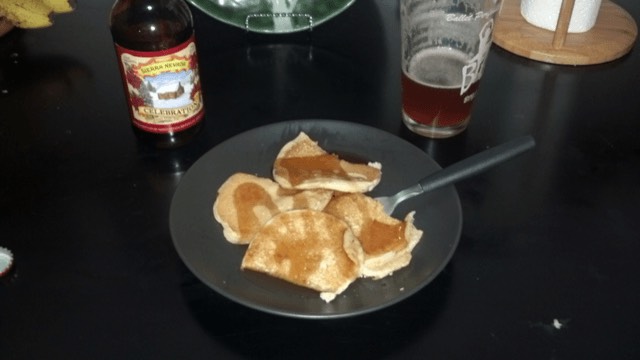 Like a godsend
The Ternary Scale:
Pancakes: 1 - Definitely don't go out of your way, but if you have it, you're probably better off making pancakes.
Syrup: 1 - If I could give this more than a 1 I would. Syrup made them almost enjoyable.
If you don't hate most hoppy things like I do, this would probably be a good bet. Anybody else have some lingering winter beers around? Bring them over for Beercake Sundays!
---
If you liked this post, share the love!