New Kid on the Block
by Brad
Somewhat along the same lines as the previous post, I recently threw a Growler Party, which means a lot of beer for not a ton of money and it's all local/craft/delicious beer. As a side-effect to this, I got my hands on some growlers from the newest brewery in Madison, Karben4. They're so new, in fact, that I had to bring someone else's growler for a fill of the magic stuff.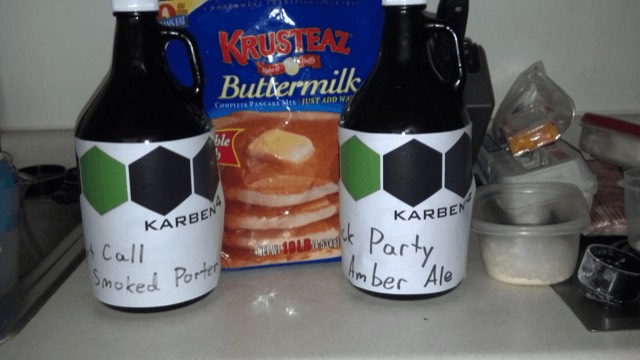 Super-classy labels right there
The two beers in question today are their Night Call Smoked Porter ([drools]) and the Block Party Amber Ale. The Porter is delightfully smoky - just the right amount, while the Amber is very "sessionable." Unfortunately that makes it a bit lighter and more bitter than I'd like my beers, but to each their own.
Prep/Cooking:
Our batters took on their characteristic colors as they usually do, and the flavor/aroma profiles started to get interesting. What works in liquid form doesn't always work in batter or pancake form. The smokiness of the porter, which in liquid form are a delightful complement to the darker malty tones, just comes off as weird in batter. When's the last time you had smoky batter? Exactly. The Amber, on the other hand, used the batter to quell some of its bitterness, and the flavor fills in a lot more bringing out its subtler flavors. I actually prefer the amber ale in batter form. Welp?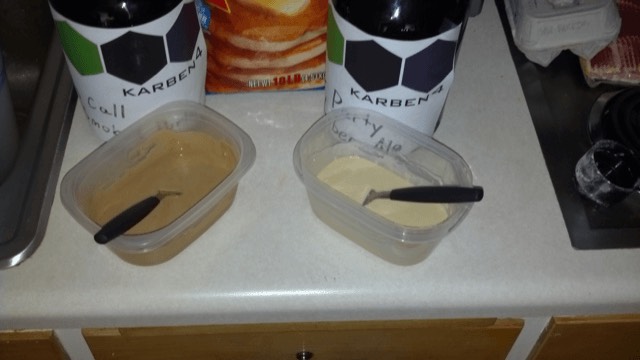 Ebony.....and......Ivory...
Results:
Smoked Porter - 1. If you already have some, give it a try. Why not?
Amber Ale - 0. It just didn't taste like beer pancakes by the end.
Syrup - 1? It didn't really enhance the flavor on either of the beercakes, but at least it means you get to eat syrup, amirite?
Cooking something that's already strongly smoky to begin with kind of makes it taste burnt, unfortunately. It grew on me gradually, but it was just weird. Smoky pancakes are weird. The Amber, on the other hand, lots the bitterness it has in beer form, but unfortunately in the process of cooking it also lost most of its flavor. It might be worth mentioning that these are two survivors of the Growler Party, though only a day or two old at time of pancakery, so maybe that had an influence?
What're your thoughts on the flavor flatness of these two? Have you checked out Karben4 yet? Let us know!
---
If you liked this post, share the love!