Komodo Dragonfly
by Brad
If there was ever a list of badass beer names, this is probably somewhere up there on the list. Probably not the best I've seen (Friday Beers saw some great ones), but anything with a komodo dragon on it is worthwhile.

Komodo Dragonfly is a Black IPA from Upland Brewing Co out of Bloomington, IN. While it has a darker color and a bit more malty characteristics than your traditional IPA, it is still an IPA, which means I probably don't like it. Black IPAs are on the up and up recently, and they're technically called "Cascadian Dark Ale", but Black IPA sounds a lot more like what it is.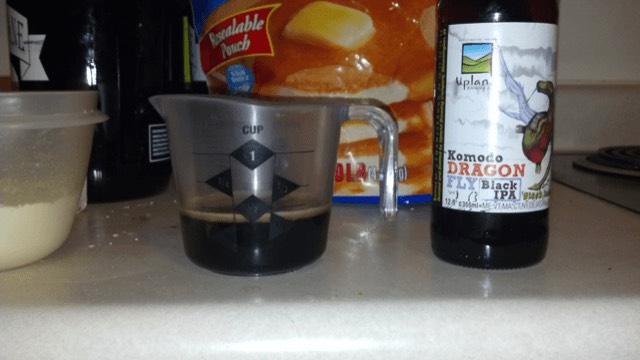 They weren't kidding when they called it Black...
The beer itself was more tolerable than several other IPAs I've had, but I'm really not an IPA guy, so this is kind of a hard call for me. It was dark and bitter. I like dark. I usually like bitter. It was also hoppy. I don't like hoppy. I wasn't looking forward to this one, but, for Science!
Prep/Cooking:
The batter was a wonderfully curious dark brown color. The Blackness of the Black IPA came through for sure, as did the hoppy aroma. I really wasn't looking forward to this one. Although, admittedly, the batter was a bit more tame than the beer itself.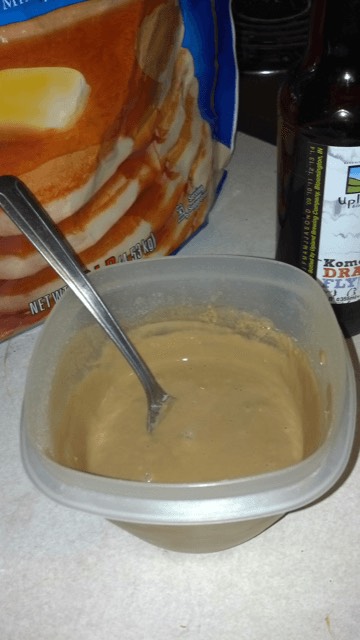 Badass color. Not-so-badass beer.
Results:
Not that this is a big surprise, but I wasn't a fan of this at all. I'm not sure if I'd prefer it in beer form or in pancake form, but they're both pretty unfavorable to me. I'm not a Pale Ale or IPA kind of guy, though, so this probably isn't the best gauge.
Even syrup couldn't save them :(
The Ternary Scale:
0 - Again, not shocking, and maybe not fair, but I was not a fan. Didn't particularly like the beer, either.
Think my review's unfairly biased against IPAs? Want some more love for the Black IPA? Tell us about your experience with Black IPAs in the comments below!
---
If you liked this post, share the love!